Special Service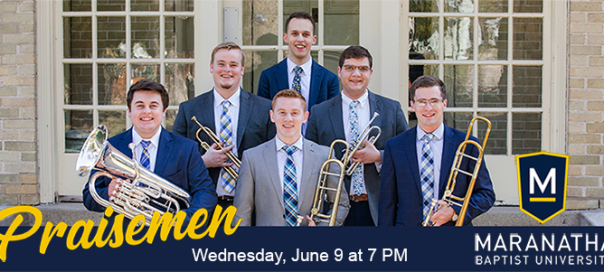 The Praisemen from Maranatha Baptist University in Watertown, Wisconsin, will present a concert at Westside Baptist Church, 6260 West 4th Street, Greeley, CO on Wednesday, June 9, 2021 at 7:00 p.m.
The Praisemen are a six-member men's group that are traveling for Maranatha Baptist University this summer and will minister with vocal numbers and brass instruments. Their twelve-week tour will take them through 13 states from the Midwest to deep south and back. The group will minister in churches and Christian schools utilizing music and preaching to challenge both teens and adults spiritually and promote the ministry of the university. The 2021 Praisemen are Micah Herbster (Ringgold, LA), Jaren Fair (Newtown Square, PA), Andrew Holloway (Birmingham, MI), Dylan Keener (Worthington, PA), Caleb Letzring (Orlando, FL), and Joel Montgomery (Pittsburg, PA),
The public is cordially invited to the concert. For more information please call the church at 970-346-8610.